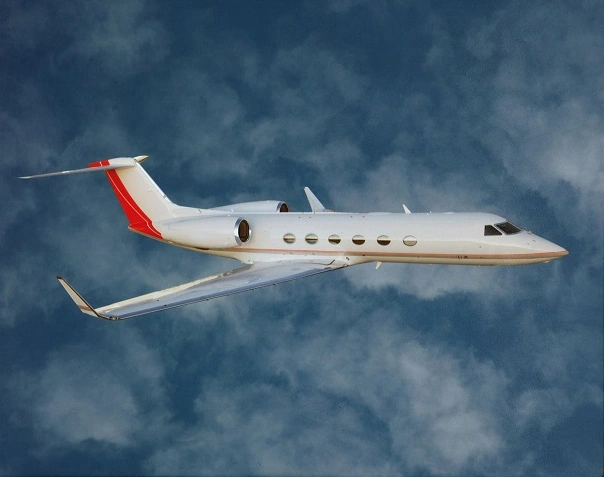 Gulfstream G450
Gulfstream Aerospace
Class
Heavy
ICAO
GLF4
IATA
GJ4
Max passengers
16
Typical Speed
833.4 km/h

450 kts

Range
7871 km

4250 nmi
| | |
| --- | --- |
| Cabin height | 1.88 m |
| Cabin width | 2.24 m |
| Cabin length | 13.7 m |
| Luggage volume | 4.79 m&sup3 |
Between fourteen and eighteen passengers should ride comfortably in the Gulfstream 450's 1,525 cubic foot cabin. Passengers can easily stand in the 6.2 foot high cabin and will enjoy the 7.3 foot width and 45.1 foot length (an 18 inch increase from the G-III). The 169 cubic feet of baggage space is accessible in-flight. Two full-length closets for coat storage are located inside the two fully-enclosed lavatories.

There are plenty of cabin features that should make transcontinental and transoceanic flights enjoyable. To begin with, the full-sized galley comes fully equipped with everything needed for hot and cold food preparation: a high-temperature oven, microwave, and full-sized sink with hot and cold water, cooled storage, two coffee makers, and an espresso machine. There is even fitted storage space for the dinner service (including crystal and cutlery) custom-made for Gulfstream's private jets.

Much of the Gulfstream 450's speed and range capabilities can be attributed to a few small improvements to the structure. A new wing design cut down on drag and allowed for an increased fuel capacity.

The Gulfstream makes no sacrifices when it comes to cabin space, speed, range, and reliability. It meets every requirement a world traveler could have for a private jet of its novelty and quality.