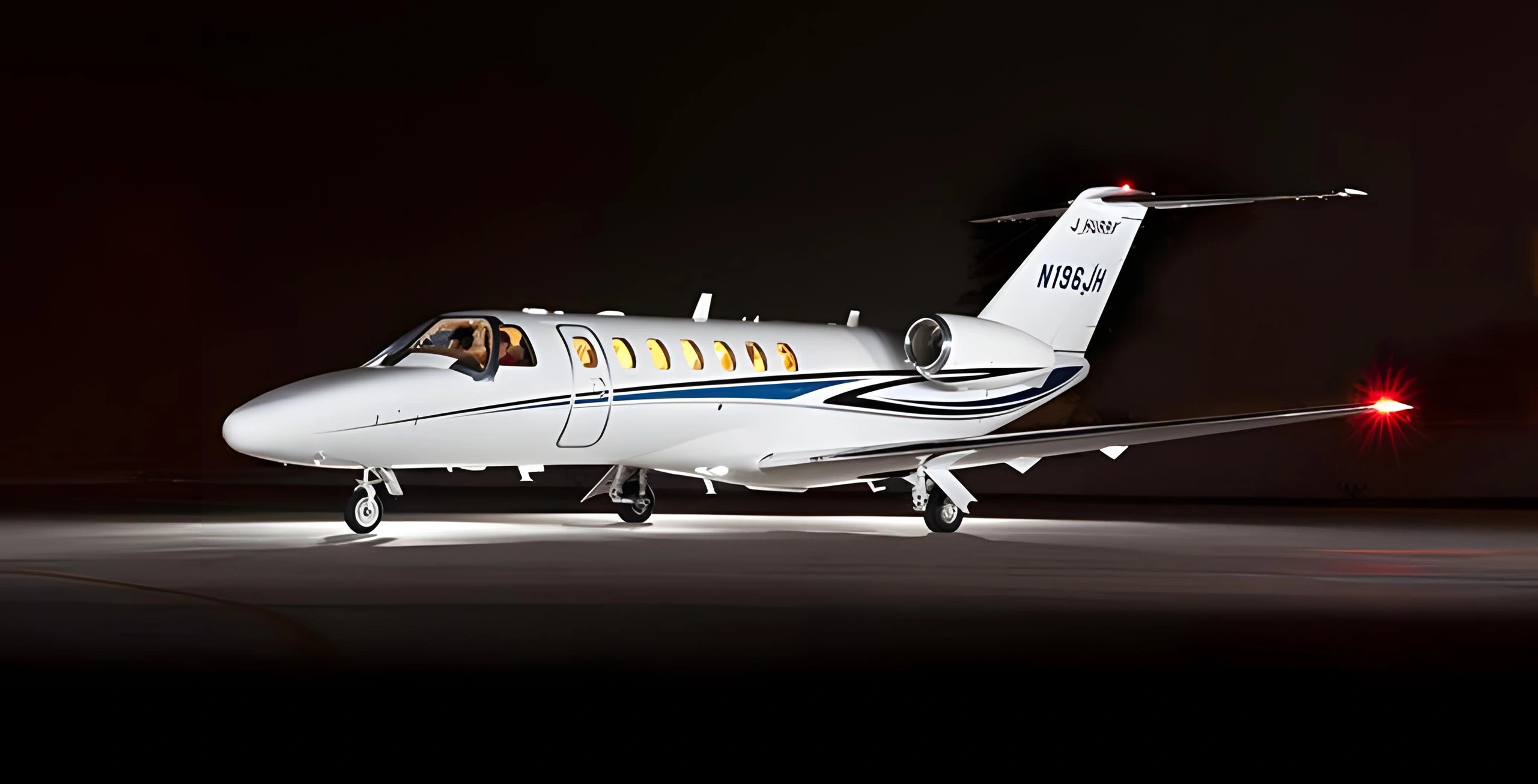 Cessna Citation CJ3
Cessna Aircraft Company
Class
Light
ICAO
C25B
IATA
CNJ
Max passengers
7
Typical Speed
759.32 km/h

410 kts

Range
3261 km

1761 nmi
| | |
| --- | --- |
| Cabin height | 1.45 m |
| Cabin width | 1.47 m |
| Cabin length | 4.78 m |
| Luggage volume | 1.84 m&sup3 |
The CJ3 is the sixth generation of the popular Citation Jet series, a class of private jets designed to be economical and high-performing. Business travelers like the idea of a private jet that understands bottom-line thinking, without sacrificing performance or reliability. The jets of the Citation series bypass much of the complexities of their competitors and use the most economic engines available. The CJ3 is the jet that Cessna is calling "the largest, fastest, most advanced aircraft of its kind." Even taking into account Cessna's natural bias towards their newest arrival in the Citation Business Jet fleet, their bold statement may be right.

The CJ3 is extremely fuel-efficient. Its owners continually report that it meets or exceeds Cessna's fuel burn data of 150 gallons per hour. The economy of its fuel burn can be largely attributed to Cessna's choice of engines. An additional contributing factor to the fuel-efficiency of the CJ3 is the use of natural laminar flow wings. These wings delay the onset of flow separation longer, which significantly improves the lift-to-drag performance.

Despite the CJ3's economy in flight, it allows for a surprisingly high payload. Its baggage compartments have the capacity to carry a total of 74.4 cubic feet of luggage. The Citation Jets have been specifically designed to be able to easily operate from a short runway. The CJ3 can take off in just 3,450 feet.

These alterations result in better maximum range/payload flexibility, offering owners more options in flight planning. The most surprising result of the significant increase in payload is that, despite the additional weight, the CJ3 is faster than the CJ2.

The plane seats six passengers in the twenty foot, ten inch cabin. Fourteen windows and a new configuration of LEDs make the cabin feel even roomier. The cabin has multiple 110-volt AC power outlets and folding writing tables so that travel can be productive.

As usual, Cessna upholds its reputation for producing reliable, high-performing private jets, the CJ3 being the perfect example. It is designed to be efficient in both purchase and operation costs while still maintaining a good level of comfort and competitive range.