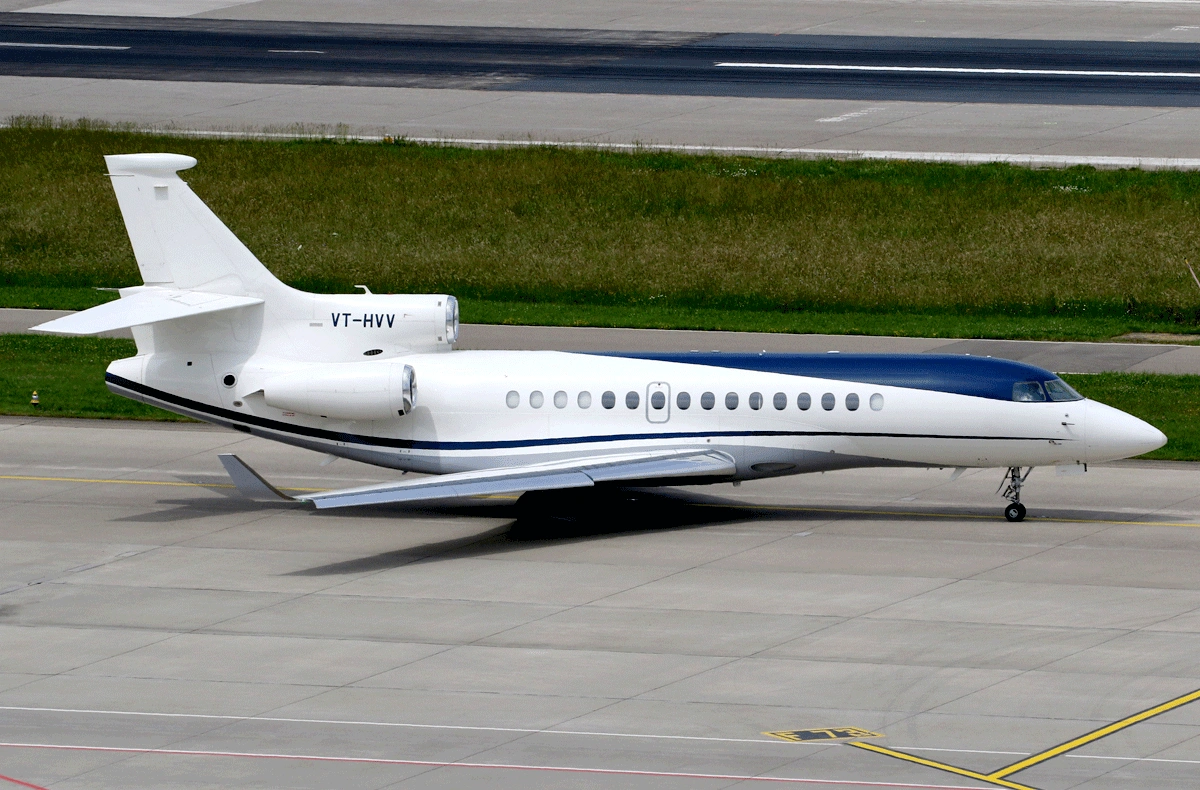 Class
Ultra long range
Max. passengers
14
Year of production

2017

Serial number
432
Total flight hours
2015
Total cycles
674
Homebase
VIDD ,

Safdarjung
| | |
| --- | --- |
| Cabin height | 1.87 m |
| Cabin width | 2.33 m |
| Cabin length | 13.00 m |
| Luggage volume | 4.00 m&sup3 |
The 8X Offers many ways to stretch out and rest. Take a nap on a divan, or convert the aft cabin to your own private stateroom. Of all the large-cabin jets on the market, the Falcon 8X alone provides a unique combination of efficiency, flexibility, long-range and quiet, spacious comfort. All perfectly balanced to create a flying experience that exceeds the expectations of the most demanding customers. It incorporates Dassault's considerable experience in fighter-derived flight control; ultra-efficient, long-range performance; sound reduction technology and adaptable interior spaces. Not only does the Falcon 8X surround passengers in comfort, its advanced technologies, from breakthrough digital flight control systems to near-perfect aerodynamics, create a superior flying experience. The Falcon 8X is up to 20% more fuel-efficient than any other aircraft in the ultra-long range segment. Much of the credit goes to the three highly efficient Pratt & Whitney PW307D engines which power the Falcon 8X. Each engine provides thrust at 6,722 lb / 29.90 kN while reducing emissions to levels well below the latest standards.
When designing the Falcon 8X, Dassault rethought all major structures and systems, adapting and optimizing them into an integrated, efficient airframe. Re-designed wing architecture is lighter and provides more room for fuel. New winglets further reduce drag to boost efficiency.
With a maximum range of 6,450 nm (11,945 km) and outstanding short-field performance, the 8X links important city pairs nonstop, even those with challenging airports where competitors cannot operate or face access restrictions. It is capable of time-saving, direct flights between Delhi and Mumbai, between Delhi and Lucknow, and between Delhi and Hyderabad.
Engine
3 Pratt & Whitney Canada PW307D – 6,722 lb / 29.9 kN (Max Thrust, ISA + 17°C, SL)
Avionics
3rd Generation of EASy Flight Deck (with Honeywell Primus Epic System)
Maintenance
Last Maintenance Done on 15.06.23